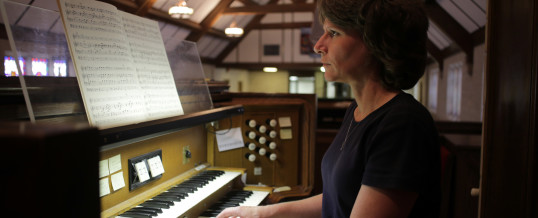 Last week (June 15-19), I had the opportunity to participate in a Pipe Organ Encounter (POE) for young people, ages 13-18, sponsored by the American Guild of Organists (AGO). I was one of 10 faculty who worked with 23 students. Many students were local, but some also came from Florida, North Carolina, Kansas City, Oklahoma, and Nebraska. Faculty taught private lessons and classes and gave recitals. They came from KU, including my two former teachers, WSU, William Jewell College in Liberty, MO, Bethany College in Lindsborg, and Yale University Institute of Sacred Music. I presented a recital and organ demonstration at Bethel College in North Newton, where I teach.
All of these students were so excited about learning more about the organ and getting to play various organs in the area! They heard recitals, and then had the opportunity to play organs at WSU, East Heights, Eastminster, and Church of the Resurrection in Wichita, as well as several organs outside Wichita. I had the privilege to teach two students each morning and help them prepare for a student recital in Wiedemann Hall on Friday. My students and I met at First Presbyterian Church.
It was truly a joy to get to be a part of this POE and to work with these students. They were so eager to experience the organs and learn. One of my students is starting to play in her church, and she is so excited about that! My hope is that she and others continue to learn and develop skills to help God's people worship together. The Wichita Chapter of the AGO organized a wonderful week for these young people!
May all be to the glory of God.
Donna Hetrick
Share