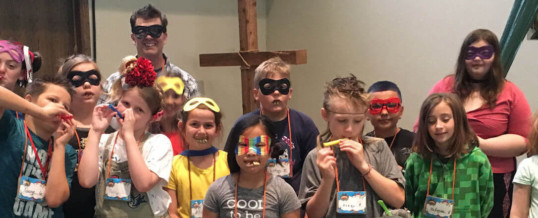 The Children's Ministry Team at Grace is excited to offer families the following opportunities because we believe that connecting with Jesus is important to do every day. We also believe that families want to do this, but maybe we're out of ideas, or we wonder where to start.  Hopefully, these options will give you a place to land.
Faithful Families Sunday School Class:
Come explore how families can be faithful together outside the church walls.  We will offer hands on ways for you to incorporate a weekly family devotion, faith filled check-ins and ways to weave Scripture into your daily life.  One family we know writes a Scripture on the foggy bathroom mirror every morning.  Come and share your ideas with is as we learn what it means to raise faithful families.  Sept. 17, 24 & Oct. 1 at 10:00 a.m.
Messy Church:
Launching, September 24 at 4:30 pm. Messy Church is a new worship service designed for families with young children or for children at heart.  Come and explore integrative artwork designed to place you in the middle of a Bible story.
March in the joy-parade after drinking a great cup of Spice Merchant coffee.  Listen to acoustic guitar and learn about one of the famous families in Scripture:  Abraham and Sarah.
We do this through special music led by Robert Roswurm and Co. and then, share a meal together before going home.
Foundation Station and Tower Kids classes begin October 15 at 10 a.m every Sunday
Share