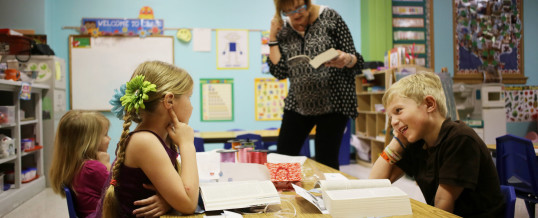 Children's Ministry Update by Jennifer Snook
"Don't blink," they say. "Take a lot of photos," they say. "It all goes so fast," they say.
I think the only way to silence the voices of fear that tell us as parents that we are somehow missing something, is to make memories. To be sure, memories are made right along the breakfast aisle in the grocery store, and memories are made with each bedtime story we read. We make memories every single day. Some memories are good ones that we want to dip in a cup of warm cocoa. Some, we would rather just forget. Either way, I want to take a moment to champion parents who are living busy, fearless, messy lives as they race from one soccer game to a piano recital and then manage to feed their family and watch a movie together at the end of the day.
We need not fear what is meant to be, but rather embrace the eternity of the moment that we have right in front of us. This November 15, from 4:30 – 6 pm, the Children's Ministry Team invites you to bring your family to Grace for an Advent Family Night. Each family will create a set of Jesse Tree ornaments to take home and use for years to come. The Jesse Tree ornaments retell the biblical tales that trace the family tree of Christ from the Garden of Eden to Jesus' birth. This Advent Family night is a chance for your family to come make a memory that includes the story of your faith and your commitment to raise God-centered children. We look forward to launching into the Advent season with you.
Share