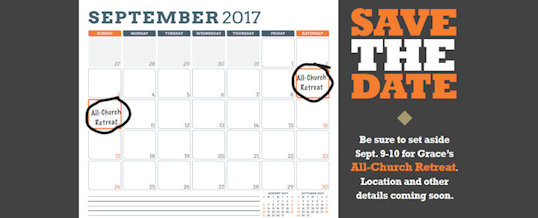 Have you signed up for the All Church Retreat? If not, sign up today! The deadline for sign-ups is August 1, 2017.
Who should attend? The Grace Community – any and all ages – Children and youth must attend with an adult. When is it? September 9-10, 2017. The retreat begins with lunch on Saturday and ends with lunch on Sunday.
Where is it? Camp Horizon near Arkansas City, KS Cost? Price range is from$15 a person (Saturday only) to $65 a person for lodging and meals, with several options between.
What's the housing like? It varies. There are a few hotel style rooms, bigger rooms with bunk beds, or you may camp. You are also welcome to find a hotel in Arkansas City and commute.
What's the theme? The retreat theme is "Stop, Seek, Serve," and together we'll encounter God through worship, play, scripture, and more.
Registration: Forms are available on the bulletin board across from the coffee bar.
Questions: Contact the planning team, Chris Alexander, Fred Heismeyer, Lib Hooper, Ben Rivers, David Shaw, and Blake Ullmann, or Catherine Neelly Burton, Catherine@mygpc.org.
Share