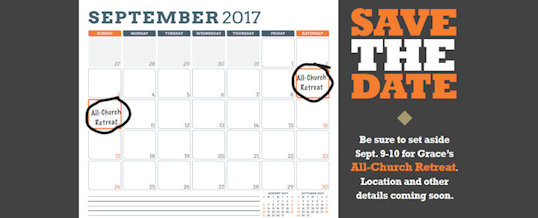 STOP, SEEK, SERVE
WHO:
The Grace Community:
Children and youth must attend with an adult.
WHEN: September 9-10, 2017:
Begins with lunch on Saturday and ends with lunch on Sunday.
WHERE: Camp Horizon in Arkansas City, Kansas.
COST: Price range is from $15 a person (Saturday only) to $65 a person for lodging and meals with several options between. Contact the planning team for more information or check the bulletin board near the coffee bar.
DEADLINE: Register by August 1, 2017.
QUESTIONS: Contact Catherine Neelly Burton at Catherine@mygpc.org or members of the planning team:
Chris Alexander, Fred Heismeyer, Lib Hooper, Ben Rivers, David Shaw, and Blake Ullmann.
Share