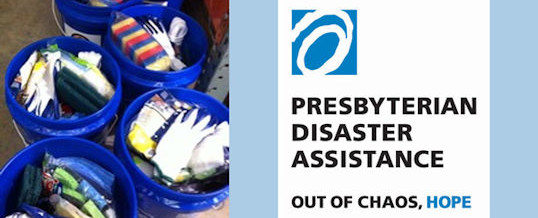 When a natural disaster hits the United States, the Presbyterian Disaster Assistance (PDA) responds in multiple ways. One response is with Clean Up Buckets and Hygiene Kits. After Hurricanes Harvey, Irma, and Maria, it's time to re-stock the PDA warehouse.  The Presbytery of Southern Kansas is collecting buckets and kits and will send them all to the PDA warehouse in Arkansas in November.
How can you help?  Put together a bucket or kit, and bring it to Grace by Sunday, November 12.  Please put together an entire bucket or kit, not a partial.  Feel free to get together with friends to make it happen.
Questions?  Contact Catherine Neelly Burton, Catherine@mygpc.org
Clean-Up Bucket List
One five-gallon bucket with resealable lid (If bucket has been used, clean well but do not use if it held chemicals of any kind.)
Four scouring pads
Seven sponges, including one large
One scrub brush
Eighteen reusable cleaning towels (e.g. Easy Wipes)
One 50 oz or two 25 oz bottles of liquid disinfectant dish soap
One 12-16 oz bottle of household cleaner that can be mixed with water (no spray bottles)
One package of 48-50 clothespins
Clothesline, two 50 ft or one 100 ft
Five dust masks
Two pairs non-surgical latex gloves
One pair work gloves, cotton with leather palm or all leather
24-28 heavy duty or contractor type 30-45 gallon trash bags on a roll and removed from carton
One 6-9 oz bottle of non-aerosol insect repellent
All cleaning items must be new – all liquid items must be capped and securely tightened. Place all items into the bucket, making sure they are packed securely to avoid damage during shipment. Snap the lid on tight and seal with packing tape.
Hygiene Kits
One hand towel measuring approximately 15"x28" to 16"x32" (no fingertip, bath, dish towel or micro-fiber)
One washcloth
One wide-tooth comb removed from the package
One fingernail or toenail clipper removed from the package
One bath-size bar of soap in the wrapper
One toothbrush in the package
Ten standard size Band-Aids
All items need to fit inside a one-gallon plastic zipper closure bag. Remove the excess air from the bag and seal. Do NOT add any extra items or toothpaste. Extended expiration date toothpaste is added to the kit before its final journey.
Share