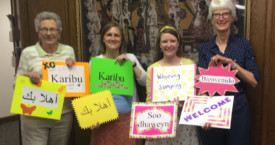 Refugee Team
The Grace Refugee team formed in 2015.  In December of 2015, we hosted a holiday meal for the Wichita refugee community.  In the spring of 2016, we collected donations for refugee homes.  In the summer of 2016, we focus on education.
Tutoring Program
Grace runs a tutoring program during the school year for students at nearby Hyde Elementary. This program meets in the Grace Fellowship Hall, Tuesdays and Thursdays, September to May, with reading skills as the focus.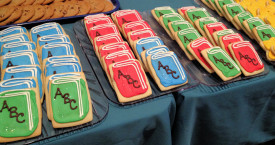 Quilting Ministry
This ministry creates quilts for our mission partners in Wichita. Quilts primarily are donated to the International Rescue Committee for refugee families. Quilters may work at home or gather together at Grace on the second and fourth Tuesdays of the month at 2 pm
Love Wichita
Every spring Grace joins with other churches from the community to Love Wichita. It's a day of mission and service all over the city.
Love Wichita 2016
Visit website
Economy Corner
Members of Grace Presbyterian help staff and supply Economy Corner, a second-hand store on the property of First Presbyterian Church in downtown Wichita. Grace members sort donations at our church, and Grace members are the volunteer staff on site three days a week. The money raised goes to mission programs.
Bus Tickets
Each month Grace gives out bus tickets to people in the community. We distribute tickets on the 15th of the month. (If the 15th falls on a weekend then we give them out the Friday before.)
People start gathering at 7 am in the church alcove. Tickets are distributed at 8 am. There is a brief worship service with communion at 7:40 am, and all are welcome.
Grace Knitters
Missionaries
We are proud to help financially support the Hurd Family in Kenya and Katie Rhoades in Uganda.
Yellow Bags
Take home a yellow reusable grocery bag on the first Sunday of each month. Return it on the second Sunday after you've placed non-perishable food or paper products in it. Ten months out of the year the food goes to the Mount Vernon Presbyterian Food Pantry. The other two months it goes to Wichita's Operation Holiday.
Mission Distribution Team
This team is tasked with sharing our mission money with the community and world.
Coffee! Chocolate!
We sell Fair Trade coffee as well as chocolate bars and other items on the second Sunday of each month. Everyone wins, as you get good coffee, and the growers get a good wage.
Dillon's Community Rewards
Community Rewards is the perfect partner for Grace because you can easily donate just by doing your normal grocery shopping each week! Please visit Dillon's website to re-enroll in the program this year so purchases throughout 2016 credit to Grace. Click the button below to sign in.  Type in "Grace" in the search box and choose Grace Presbyterian Church on the drop-down list of approved options.
These funds get distributed in our community to Inter-Faith Ministries and Brotherhood Community Ministries. It is a good way to help support missions; apply today!