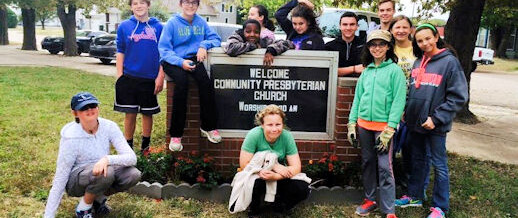 By Kirk Anderson, Director of Student Ministries
Rejoice always, pray continually, give thanks in all circumstances; for this is God's will for you in Christ Jesus. ~1 Thessalonians 5:16-18  
I love July.
First, I am a warm weather person, so the heat doesn't really bother me. I love the 4th of July. I am still a fan of blowing things up…the bigger the better.
But, my favorite part of July is our annual High school Mission trip. Knowing that God is going to do some extraordinary work through these amazing kids and adults is something that I can't put a price tag on.
Lives are changed, expectations are blown away. Grace, forgiveness and love become common, all because God is allowed to work in ways that don't always happen in our day-to-day routines. If you have never done a week of service, do so before you can't. I promise you will be a different person.
My one request is that you pray for us during this trip.  he names of those participating on this year's trip are listed below.  Please pray continually!
Youth: Max McIntire, Matthew Randle, James Thompson, Jordan Pluenneke, Alex Fanning, Drew Whepley, Emma Schumann, Andrew Hetrick, Makena Frazier, Emma Marvin, Luke Hetrick, Garrett Lancelot, Jack McHenry, Camron Morgan, Mekonen Ney, Katelyn Regan, Wil Ullmann, Noelle Schumann, Alexandra Schumann, Gracie Schnedler, Blake Ullman, Joseph Beauchamp, Clare Heathman, Justin Lewis
YaYa's: Erin Whepley, Christina Sledd
Adults: Jim Grannis, Charlene Randle, Sean Foster, Kathy Whepley, Bill Hetrick, Alan Crane, Kirk Anderson
Share