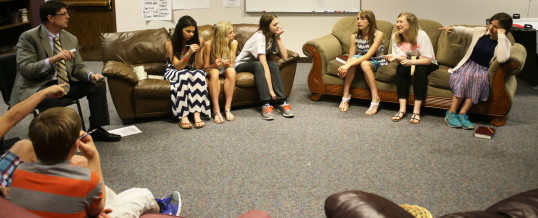 by Kirk Anderson, Director of Student Ministries
Psalm 141:2 May my prayer be counted as incense before You; The lifting up of my hands as the evening offering.
We have so some much to be thankful for from the past year — great youth, volunteers, mission, support, staff and of course you. Without you, none of this would happen. So to God we must lift our hands and give thanks. This year has been an amazing one – truly God-inspired. But if 2015 is coming to an end, that just means 2016 is here, and God has a plan for that. He has a mighty and transforming plan that will change lives in ways we may or may not see. So my request today is that you take a few moments, lift your hands and pray for this church and its ministry.
God, we lift our hands to you and pray for…
Our youth to be transformed by You and Your word.
Our volunteers to be strengthened and led by You.
That new relationships are built and old ones strengthened.
That Mission unto others is a priority and looked upon with excitement and opportunity for change.
That families are strengthened and supported.
That Sundays are days of teaching, growth and rest.
That school is a place of great learning.
That our school teachers, administrators and staff are renewed and accept the challenge of leading and growing our youth.
That camps and mission trips are times of profound and lifelong change.
That new opportunities to connect with youth be found.
That the Grace family grows, and new life in you is found.
That Children's ministry thrives and grows.
That the Grace staff be strengthened by You.
2016 to be the year of peace, justice, love and forgiveness.
Amen.
Share