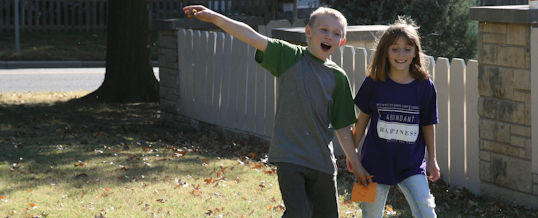 Written by Jennifer Snook, Director of Children's Ministries
According to psychology, a child is only born with two innate fears: the fear of falling and the fear of loud noises. All other fears are learned behaviors.
Fear is a common mountain the Christian climbs whether he is a child or an adult. Children give adults an opportunity to grow in the discipline of handing over fears to a God who is big enough to handle them, because children are not afraid to voice their fears. Such a voice allows adults an opportunity to explore ways to conquer fear.
Adults have the advantage of being able to tell the difference between a fear that is perceived and a fear that is based on reality. This is not always the case with children. A few of the fears of children include: a fear that something bad will happen in the family, a fear that a pet or someone close to them will die, a fear of the unknown and a fear of not being good enough.
A quick Google search of "people who were afraid in the Bible" reveals many Old and New testament saints who had the same fears we have today. A good way to combat fear is by the Word of God. Psalm 34:4 says "I sought the Lord, and he heard me and delivered me from all my fears."
Children need to know that Christ is their best friend who will never leave them. I hope you and your family feel empowered as you conquer fear together with God. Some good Bible verses about this topic include the following:
Deuteronomy. 31:6
Hebrews 13:5-6
Joshua 1:9
If your family is participating in the Lenten Paper Chain Challenge, I would love to hear how you approached some of your challenges, and which challenges were your favorites. Feel free to post pictures to me on Facebook or send your comments and photos to jennifer@mygpc.org.
Share