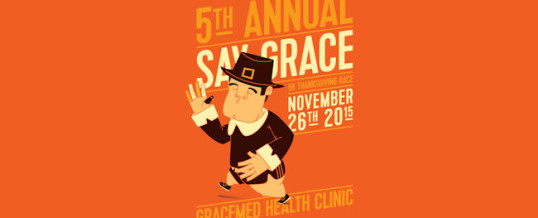 GraceMed Health Clinic is hosting its 5th annual 'Say Grace' Thanksgiving Day 5K Race on Thursday, November 26 at 9:30am. Enjoy all your holiday indulgences GUILT FREE by joining us on Thanksgiving morning for a 5K run, walk, or stroll with your family through one of Wichita's most historic neighborhoods.
Last year's event raised nearly $50,000 for GraceMed Health Clinic. To register, visit either GoRun Wichita locations or click below.
Click on Join a Team and enter Race with Grace.
Several team trophies are up for grabs:
The best dressed gang of turkeys
The most participants
The fastest team
The best team name.
Come join us for a fun morning! Contact Christy Vavra or Bill Hetrick for questions, or contact the Grace office, 684-5215.
Share