Welcome to Grace Presbyterian Church!
At Grace Presbyterian we live out our calling to be the body of Christ not only in our building but also in Crown Heights, Wichita, and the World. We seek to live authentically, worship fully, honor all people, and love our neighbors. We are a cast of characters, young and old, conservative and liberal, and from a wide range of socioeconomic backgrounds. Inspired by the Spirit, we are imperfect people who worship a perfect God. Grace is a congregation that will nurture and challenge you, inspire you and make you question.
If you're new to Grace, here's some important information:
Parking and Directions
We are located at 5002 E Douglas, just one block east of Oliver.
Parking is available on the north and east sides of the church and across Bleckley to the west.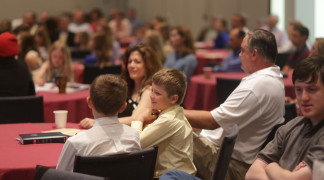 Worship Times
9 am Sunday           Worship in the Great Room
11 am Sunday         Worship in the Sanctuary
Children and Youth
Children and youth are important at Grace. We offer many programs for children, youth and families throughout the year, including game nights, movie nights, and other fellowship events. Every summer we have a week-long Vacation Bible School during the last full week of June. Our middle high school program, Inspire, and high school program, Ignite, meet weekly in our teen center. We know that it's important for families to have opportunities to play together and to grow together in faith. We are always seeking new ideas and new ways to engage disciples of all ages.