Here's where you'll find information about Worship at Grace Presbyterian Church.
Childcare
Children are welcome in all of our worship services, and a nursery is always provided if you and your children are more comfortable with that option.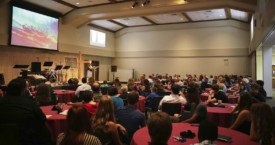 Sunday Mornings
9 am Worship in the Great Room
11 am Worship in the Sanctuary
Worship at 9 am is in the Great Room and is led musically by our band. The style tends to be less formal than the 11 am service, and often there are interactive components to worship. Many people come to this service in jeans or dress pants; a few people wear suits. Wear what feels best to you.
The 11 am service is in the Sanctuary and is led musically by our choirs. The style is more traditional though we incorporate creative elements. Many people wear suits and dresses to this service, but there are often folks in jeans. Wear what feels best to you.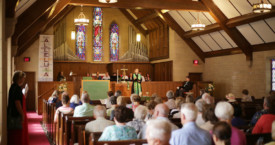 Pastor Catherine Neelly Burton typically preaches each week, and both worship services feature the same sermon.
A few times a year we have one service on Sunday morning at 10 am.
January Sunday Morning Schedule
Seasonal and Special Worship Services
Throughout the year we have special worship services. These include a Silent Night service during Advent, Holy Week worship, and opportunities for worship during Lent.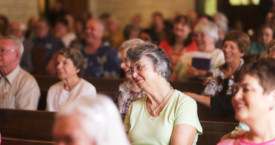 Music
At Grace, we incorporate a variety of musical styles in our worship.