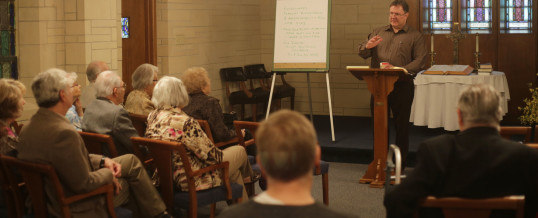 In February 2012 we changed our Sunday morning schedule at Grace. As a congregation we transitioned from three worship services to two. When we did this we created the 10-11 am hour between services. Before this, services and classes had overlapped. In an effort to provide education for all interested adults during the new hour, the Chapel Class was born. It was called the Chapel Class because it met in the chapel.
Church staff organized the class and made sure that there was a topic and teacher 10 months out of the year. A wide range of people participated in the class during the last three and a half years. Last spring the Christian Discipleship Team began to look at changing our Sunday morning education model. The main reason is that most adults in our congregation don't participate. It's possible that nothing will change this, but we know that the current model will not engage more learners.
During the 2014-15 school year, we offered two short term studies for the congregation, and we saw an increase in participation. This year we are trying the short-term study model at four different times. This fall we begin by letting adults choose between three different four-week classes. In October and November we have another short term series.
Because the Christian Discipleship Team is doing this, we are no longer offering the Chapel Class. We recognize that many people enjoyed the learning and fellowship, and our hope is that those who participated enjoy the new format.
Share