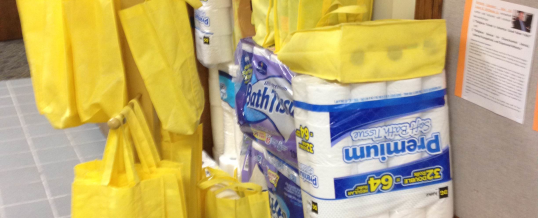 Every month we encourage you to take home a reusable yellow grocery bag, fill it up, and bring it back.  Most months we ask you to bring food for the pantry at Mt. Vernon Presbyterian Church.  In July we're asking you to bring school supplies for students in the Wichita refugee community.
Grace is partnering with First Presbyterian in this endeavor. On August 12 from 9:30 am-2:30 pm refugee families will visit First Presbyterian to pick up supplies they need for the coming year.  Our contributions will fill the backpacks for the students.
Our goal is to fill 500 backpacks.  Some of the most needed items are: scissors, calculators (small solar powered for elementary and scientific calculators for high school), crayons, markers, pencils, erasers, notebook paper, folders, notebooks, and tissues.  Complete lists of school supplies will be posted at Walmart, Walgreens, etc.
You may buy one of each item or buy in bulk and bring in multiples of the same item. All contributions are welcome! If you don't want to shop you may give the Refugee team some money to shop for you.
The school supply drive goes all month.  Bring your supplies back to GPraceby the end of July.
Also, look for sign-ups and volunteer with the event on August 12!
Questions?  Contact Erin Lewis erin.dulcimer@gmail.com, Wizie Eads wizie1164@gmail.com, or Carolyn Benefiel.
Share