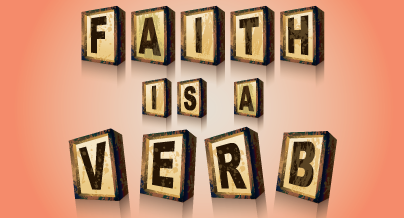 Faith is a Verb.  That's our worship theme for the fall.  What does it mean?
Each Sunday this fall we focus on a different aspect of discipleship. Discipleship is active. Following Christ is something we do.
If we're not intentional, it is easy to stop living lives of discipleship, not because we don't want to but because we get busy with other things.
Each Sunday this fall focuses on a word, a way to do discipleship.  During September, we look at verbs 'practice,' 'follow,' and 'wrestle,' and how they relate to the ways we 'do' and live our faith.
In October, we start with the word 'plant.'  Then we spend five weeks looking at verbs from the Lord's Supper: take, bless, break, give, and feast.  Our series concludes with the word 'worship' and finally 'stop' on the Sunday before Advent.
Come to worship this fall ready to engage with scripture and ready to examine your life for the ways you are, or could be, living out your faith.
Share